Pin It Now!
Spanish has been our language of choice when looking at foreign languages for our learners. With no plans to visit far off lands, Spanish is the foreign language we are most likely to encounter from home.
Spanish for You!
is a new-to-me option that has been a great fit for our family. We have been learning about holidays and celebrations from the
Fiestas
set.
We like to learn together as a family for as many subjects as possible. Spanish for You! makes that easy. The curriculum has levels for 3rd/4th, 5th/6th and 7th/8th grades. They all use the same text and can easily be taught together. The younger grades (3rd/4th) plans are for 30 weeks and the older grades (5th/6th and 7th/8th) are for 24 weeks. A full year of Spanish for all your children in grades 3-8.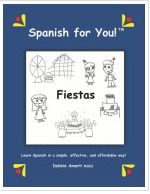 The set we received, Fiestas, takes a look at various celebrations or holidays throughout the year. You do need to stay with the order presented, the language lessons are building upon each other. Birthdays are the first lesson covered. The following lessons - Day of the Dead (fall), Carnival (late winter), Holy Week (spring), and April Fair (spring) follow a typical school year calendar. Some of these may be holidays we don't celebrate. We won't be celebrating them, but learning
about
them. These holidays are the setting in which the vocabulary and language lessons are set. Rather than random words and phrases, there are themes to the lessons.
My children using this are 3rd, 4th and 6th graders. We used the schedule for the younger grades to keep everyone together, though I did use the grade appropriate worksheets for my older daughter. Our younger children tagged along occasionally, picking up some vocabulary and trying to play some of the games. I wouldn't expect them to do much beyond play and experimentation though. We made flashcards and used these for many games. Many of the games require two players (or more) so if only one child was using this, they would need a friend or parent to play with him.
We worked on lessons four days a week. We played games, filled in worksheets (in a pdf file -- print what you need) and listened to an mp3 of both an English speaker and of a native speaker. We've had fun singing songs and checking books from the library as we learned not just the Spanish language but some of the culture of peoples around the world. We've combined this with some geography studies, too. As we are wrapping up the birthday lesson, I am contemplating a birthday party - complete with a pinata of course. I haven't convinced myself that the children need all that candy though.
To
purchase
the whole set for grades 3-8 it is $64.95. If you only want one of the three levels, they are $39.95 each. For a multi-level homeschooling family, this is a fantastic price. We received a soft-cover copy of the book (where the lessons are presented) and all other necessary elements (lesson guide, flashcards, worksheets - by grade, audio files - by lesson) are digital downloads.
We often use unit studies in our learning. The way in which Spanish for You! follows a unit study layout makes it easy to use. Following the 30 week schedule each lesson should take about 6 weeks. We plan our schoolwork 6 weeks at a time, so this works out perfectly for us. We are learning about the cultures of Spanish speaking peoples as well as learning the language. The other set reviewed is Estaciones - seasons. Be sure to read all the reviews by clicking through the graphic below. Another set is nearly ready, Viajes - travels. There are plenty of samples (
Fiestas
) and free mini-lessons to get a feel for how this curriculum is laid out.

Thank you Spanish For You!