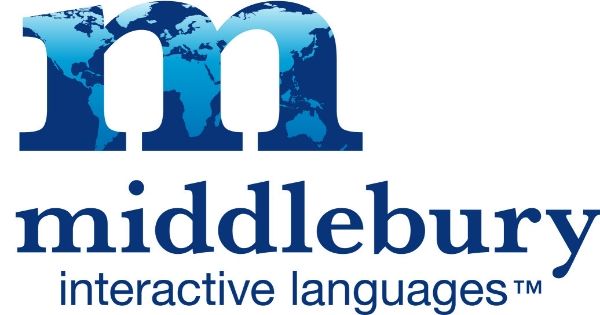 Learning a foreign language is important. When learning a foreign language, it is generally thought the earlier the better. Because noone in our family is fluent in another language, we have to intentional seek out these opportunities. When the review for Middlebury Interactive Languages came up, I knew it was time (really past time) to get our children interested in learning a new language. My second daughter, a 6th grader, agreed to try out the middle school German course ($119/semester - no personal teacher involvement from Middlebury. There is an option at additional charge to work with an instructor from Middlebury.).
Middlebury College's Foreign Language Schools have been around for decades utilized by many to learn not only the language but the culture of places around the globe. In today's ever-increasing inter-connectiveness the need for current language skills in foreign countries is necessary and Middlebury has excelled at this. Taking their methods online in interactive courses has brought their proven, rigorous approach to anyone with internet access. You no longer need to find local speakers to be immersed.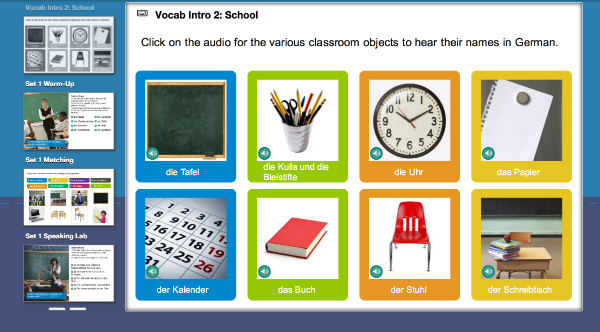 My daughter is right at the transition of elementary and middle school courses. After looking at some of the samples available on the website, she opted for the more mature graphics of the middle school program. The middle school program is also more rigorous and recommended for daily use as opposed to 2-3 days per week of the elementary program. These paces will ensure the level is completed over the course of a semester. The course is self-paced, so the learner can do more or less depending upon their understanding and ability. My daughter worked a bit faster in the beginning and slowed her pace once she made it past a few of the sets. I require that she utilize it four days a week. Unlike other subjects where I don't care if they do the whole week's worth of work in one sitting, I think she needs the more frequent practice. Less time more frequently has been very effective for her.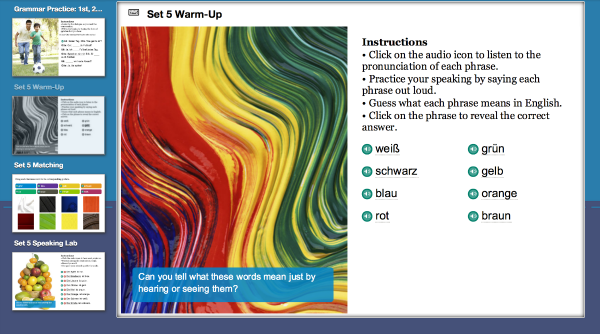 The work my daughter has been doing has been completely on her own. Outside of hearing her from the other room and glimpsing the notebook she started keeping for herself (not something directed by the course), I am not involved. She has been working with her Daddy though. My husband took German in college, but that has been a few days ago. She speaks to him, and he is able to keep up, for now.
You may wonder how we non-German speakers can know when she is using correct pronunciations? Middlebury has a great feature of recording the learner. A microphone is needed for this feature. A microphone is *not* needed to utilize the program, just the speaking lab portion. We do not have a microphone for our computers, so we have not been able to utilize this, but I think it is a wonderful option. Especially for some of those especially difficult sounds.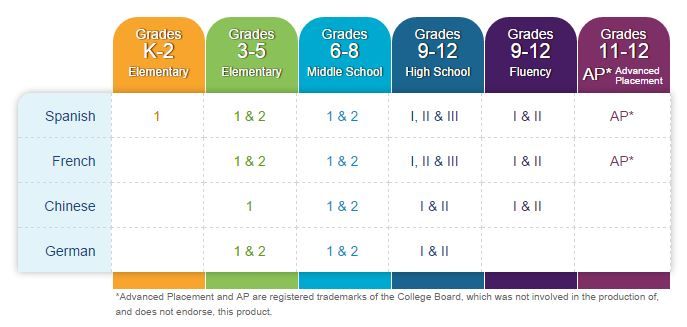 There are currently four languages available for K-12 students - Spanish, French, Chinese and German. Spanish being the only currently offered for the youngest students (K-2). Other languages will be added to the offerings. After seeing how much their sister has enjoyed her language learning, the younger siblings are eager to learn too. Who knows where the Lord will call them in life. Learning an additional language will only enable them to be more prepared - even if the language learned is not the language needed in the future. I may even sign up to learn something. The whole approach seems to be very incremental. The self-pacing perfect for a busy mama. If we can all agree to a language, it might even become a fun family project.

Thank you Middlebury!