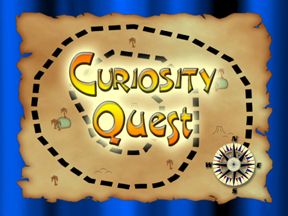 We incorporate videos often into our learning. Our favorite type is the straightforward "how it works" or "what it is" videos. This is a fun way for us to learn more about a topic, or be introduced to something new. Curiosity Quest produces exactly this kind of video. We received two of the DVD combo packs to review - Produce and Swimmers of the Sea. Each of these DVDs contains three episodes (approx. 30 minute length). Entertaining and educational, with a target audience of elementary-age children, we found the episodes to be enjoyed by a range of ages - from the 4 to 41.
The way Curiosity Quest works, is that children have written in with questions, things they are

curious

about. A letter is selected, and the team sets out on a

quest

to share the answer. Host Joel Greene is often right in the thick of things, trying his hand at the tasks necessary (feeding animals, harvesting fruit, etc.). The episodes reminded me of some of the shows we used to watch when had a satellite subscription. How things work and different jobs that people do are common themes. There are many episodes of "Curiosity Quest Goes Green" where recycling and good stewardship of the earth's resources are shown. There are a wide variety of topics represented. We'd love to see them all!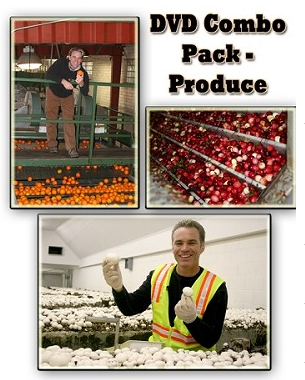 The Curiosity Quest Produce combo pack features three items you find in the produce section - mushrooms, cranberries and oranges. In each episode, we were taken into a commercial producer's facilities to see the process of growing, harvesting and packing. It was very interesting to see how our food stuffs go from where they are grown through sorting and packaging to where we buy them at the store. We learned many interesting bits about each item.
We make pizza a few times a month and always have mushrooms. While picking up mushrooms one week (after having watched the mushroom episode), my 9 yo daughter asked if they were Agaricus bisporus (they were). We've decided we'd like to try growing our own. Mmm. . . What else can we cook mushrooms in?
Of all the produce episodes, the one on cranberries is our favorite. We love cranberries. After viewing the episode a few (or several?) times, we were wanting to eat some. Fortunately, I pick them up in the fall and freeze them, so we have them on hand. We also had checked out some fun stories related to cranberries (with recipes utilizing this special berry in the back of the book). Big sister whipped up the delicious "" while I read a few of the stories aloud. The younger children also wanted to test the cranberries to see if they really float. This led to testing other things (or maybe just an excuse to play in the water). This was definitely a case of an interesting video sparking their curiosity!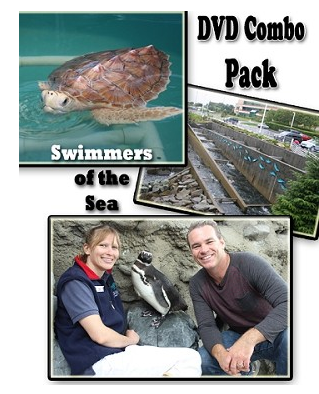 The Curiosity Quest Swimmers of the Sea combo pack gives us a close up look at sea turtle rescue, penguins and salmon. We studied sea creatures in science two years ago, so the older girls were familiar with some of what saw. It was all new and fascinating for the younger ones. We have an upcoming zoo trip later this month and they cannot wait to see some of these creatures with their own eyes.
We were not familiar with Curiosity Quest prior to this review opportunity. I have since learned that episodes are regularly broadcast in many areas (even ours, if we had a way to pick up the channels) via PBS or syndication on other stations. If you have curious children (seems redundant, doesn't it?) you will want to check into these videos. You can buy videos individually ($19.95 - 24.95), selected combo packs ($24.95) or subscription options. The Homeschool Membership looks amazing - a DVD with two episodes and related homeschool curriculum. This is available monthly ($24.99) or annually ($264).

Thank you, Curiosity Quest!