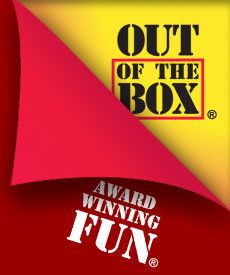 If your family plays games, you have likely played a game created by Out of the Box Games. It wasn't until looking into Snake Oil that I realized all the games we have played that are Out of the Box Games. In addition to the Snake Oil ($19.99) game we are reviewing (for ages 10+), there is Snake Oil - Party Potion ($14.99), for ages 8+, that can stand alone or be added on to the original Snake Oil. Snake Oil has won numerous awards and is considered a great classroom game. I was skeptical.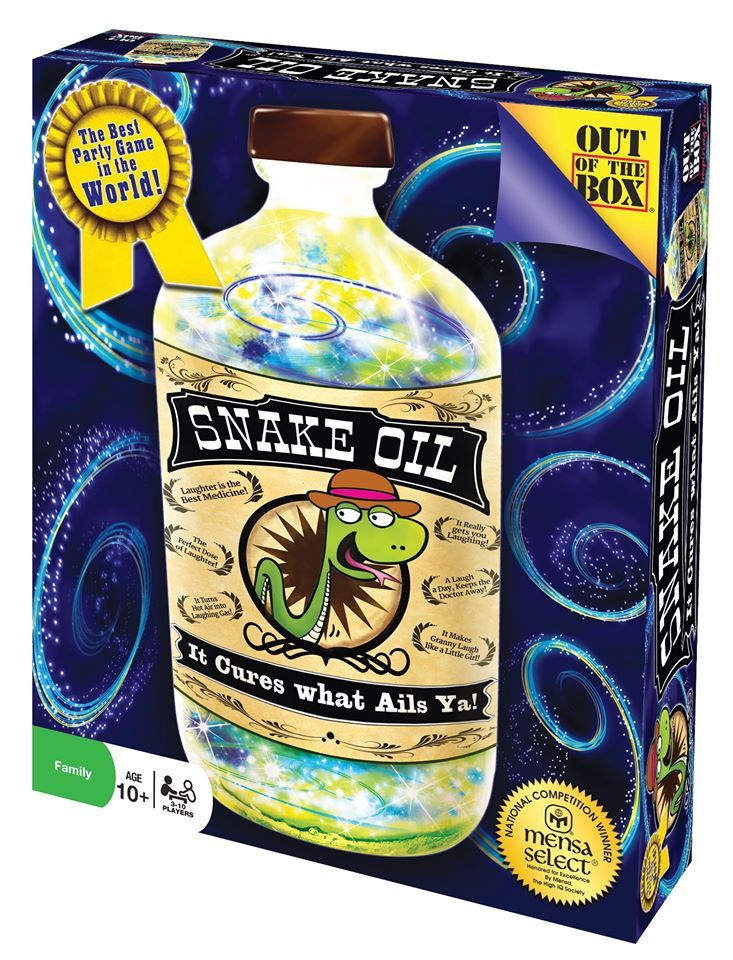 Because all of us wanted to play, but only some are 10 or older, we played with teams. The children paired up - and older and younger sibling for each team and mama on her own (sniff). Once I we read through the directions it was easy enough to get started. The biggest difficulty in the beginning was the younger ones wanting to draw the cards. That's easy to accommodate them. After playing a time or two, my nearly 9 year old son had no problem playing on his own, without an older sister. You can play with as many as 10 players (likely due to the number of cards and time rather than actual limitations with 10 players) and we found more players = more fun.
The directions weren't clear whether the stacks of cards are to be face up or down, so we chose face up. Through playing a few times, we saw how the directions and their ambiguity is one of the beauties of the game. When we are getting used to the game and playing with younger siblings, everything is face up and easier. Keeping the cards facedown means their selection is truly random and more difficult. There are variations given on the direction sheet to help when playing with larger groups or to use more word cards.
There is a whole section on the website for using Snake Oil in the classroom or at the homeschool dining table (look under the educational tab halfway down the product page). There are things I never would have thought of using the game for - public speaking and critical thinking. After playing, it seems obvious, but beforehand I just wasn't sure. It surely doesn't come across as your typical educational game. And that might be one of the reasons why it is fun to play!
The whole game is based off of the idea of the stereotypical snake oil salesman. The history of snake oil is on the direction sheet and my children loved reading about it. True snake oil is actually a good remedy, but oh-so-easy to fake. Even before reading the history, my older daughter could see a few other stereo types that fit the snake oil salesman mold. Once we learned that we would be trying to sell our customer on something that may or may not actually work or truly exist, my more literal children had a much easier time having fun with the game.
They loved their turn being the customer. The game really encourages role-playing in that the customer has a particular persona. The customer cards are double sided with a different customer/character on each. We did not object to any, but have some friends who may not wish to use those for a witch or vampire, etc. We did find a few (4 I think?) objectionable (for our family) word cards. The word cards are the cards used to determine your product. We read through each of the cards when we first opened the box to be sure everyone knew what the words meant. Because we had first read through the customer cards, this really helped them to see both logical and silly product ideas. I was starting to see the critical thinking component to the game.
Once we actually played a few times, I knew this was a winner. My children had fun, were creative and used those critical thinking skills. These are the type of games we like to use for game school days. They don't even realize the practice and application of skills - Yay! My youngest children did not have as much fun. The playing was fine, but not having their team's product chosen was not so fine. I am so torn between modifying things to please them - like points earned for their sales pitch versus one winner each time. I know they need to learn how to lose gracefully - and at home rather than among peers. It's a tough call sometimes being the mom.
Be sure to check out all the reviews of both Snake Oil and Snake Oil - Party Potion.

Thank you Out of the Box Games!