I know I'm not alone in trying to FIT so much into my days. I've used planners to keep track of appointments and a lesson planner for the big picture of our homeschool plan. This has not been enough to keep things running smoothly though. Other projects were being pushed off and then rushed, calls and errands my husband asked of me were often forgotten or done later than they should have been. I needed something to keep track of the rest of my life - I am more than a homeschool mom and have (vague) ideas and plans beyond the homeschool part of our day. I was so happy to have this opportunity to review
The 7 Minute Life™ Daily Planner
from
The 7 Minute Life
.
This is so much more than a daily planner of lists and boxes! The first section of the spiral-bound book is where you will really think, plan and reflect on your goals and ideals. While this planning and time management tool seems to be written for someone working outside the home or running a home business, it can easily be tweaked for the homeschooling mom's needs. Ideally, a modified version not needing some of those changes would be offered.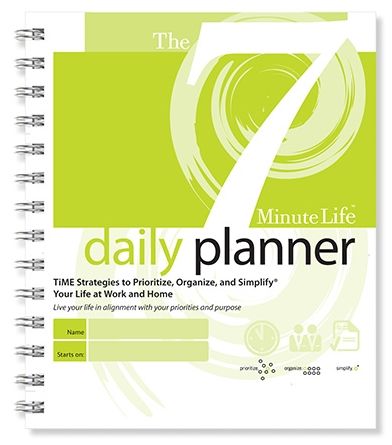 That life-changing first section? Don't skip over it. This is not a planner you will just open and go with. This will help you tackle that forever-long to-do list, finally start on that dream project and make sure you keep *your* priorities in line. After reading through the first pages explaining how the various pages and sections are to be used, you will go through and establish your priorities. I love that there is a list of 75 things to choose from - or get you started. I made clarification notes beside a few things or chose to combine a few things (financial security for the purpose of philanthropy, etc.). After marking the things that mean the most to me, the items that *should* be a priority in both the big picture and my day-to-day living, you are to prioritize them, listing them from 1-10. This is where that hazy ideal for who I want to be started to come into focus.
The second part of The 7 Minute Life Daily Planner is to organize. Time management is only part of this. You've heard the best way to eat an elephant is one bite at a time, right? This planner offers tools to take those bites - they are called Micro-Actions. These Micro-Actions can be applied to all areas of life - mental to-dos, home-keeping tasks, annual projects, physical health and more. There are pages to list the goals and lines under each to break that into actionable steps. This is just what my split-personality self needs. The perfect way to accomplish some of those bigger projects that seem to be only a dream. It is also working well to help me see that a little bit each day is making a difference in both my exercise goals and de-cluttering the whole house tasks. There are also pages to list unfinished tasks. It is so nice to have a place to write this down and not try to keep track of it all in my head. We are working towards a bigger goal of sustainability with what we plant in our various garden areas. Researching varieties of fruit trees best suited to our zone is one of those things I can add to this list. It can go on the daily plan nearly anytime, but no need to write it down for an especially busy day, yet I don't want to forget to do it. This planner rocks for keeping track of those sorts of things. And those sorts of things are exactly what have been muddling up my thoughts.
So, we've worked through those early pages of establishing priorities and writing down goals (why does that always seem so daunting?), now comes the daily part. The third part of the planner is simplify. The question is often asked throughout the planner "Did I do what I said I would do today?". On the two-page spread daily progress report this is followed with two boxes to check either yes or no. The planner is both for planning daily tasks and keeping track of the things accomplished. This is both the easy and the hard part. This is where I have tweaked the headings of some of the sections.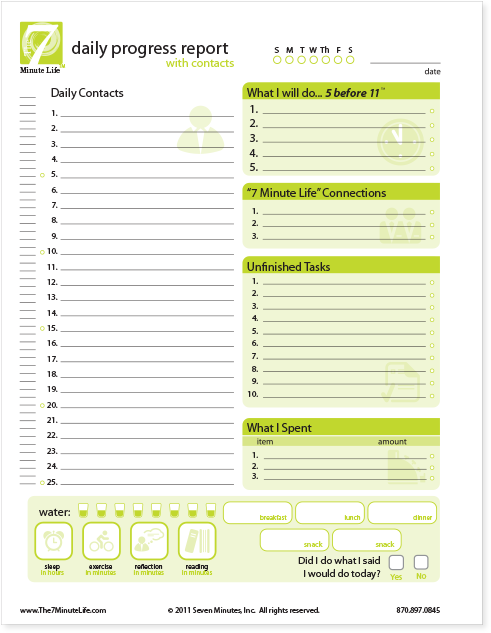 Daily Contacts (still looking for a different name) is where I listed specific things we need to do - get a certain load of laundry done (hunting clothes for my husband, etc.) or finish a particular book because it is due at the library this week (and we've exhausted all of our renewal opportunities). I do not list all of the homekeeping or homeschooling tasks here, just the ones that cannot be missed. Unfinished Tasks is Blog/Social Media Tasks. What I Spent is what our meals are that day. I love the lower section for keeping track of my physical health and more. My only complaint is that the soft spring green color is very hard to read. It is not found on just the daily pages, but throughout the whole planner. That is the only real complaint.
There are numerous videos and sample pages found at The 7 Minute Life so you can check this out and see if it would help you. The planner is for working on 90 days at a time. For $24.95 you can order your own soft-cover, spiral-bound 270 packed-full pages of life-changing goodness. I am loving the change this is making in my life!
I used to make lists and live by my lists. I lost part of myself in this though. I put off too many of my dreams and fun projects and things that brought joy. So I swung to the other extreme and chucked the lists, trying to cram as much fun and life into each day having no real plan. Obviously, this is no way to get things accomplished either. I have been trying to find some sort of balance. I am a wife and homeschool mom but that is not all that I am. I needed to find a way to fit all of these wants and needs into my life. Going through these first sections of The 7 Minute Life Daily Planner has really helped to bring those things into focus. It is helping me to find ways to fit it all in. I may not get to do all the things I want to do everyday. It helps so much mentally to see that the fun project I am working on simply for the joy of doing it is not shoved to the back burner, but just to another day this week.

Thank you the 7 Minute Life!