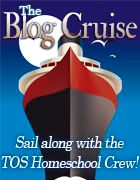 That tagline often gets stuck in my head, but I never really thought about it much. That is until I received an iDevice. It is "mine" but I know there are so many cool, educational apps out there--I let the children use it, too. Do you have one of these handy devices-either the iType or Droid?
What are some of the apps you have - and like and use often? I have many apps, but try to limit what is available to my children. They don't usually get to play when we are home, but rather the rare times we are traveling and tied down in car seats. Some of our favorites are:
Those are just some of the apps we have found that are educational -- and fun. Share what you have found and use. I would love to find something for math facts that isn't too game or drill like. Something interactive, but with little pressure for speed. If you know of an app that fits, tell me about it!
I'm participating in the Blog Cruise this week on the
TOS Homeschool Crew blog
. Check it out for more homeschool-friendly apps.