Pin It Now!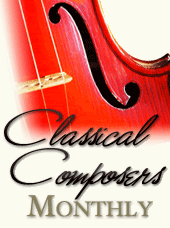 Composer study
is something that often gets pushed aside in our schedule. I know the impact listening to classical music has on children's learning. I, myself, enjoy listening to classical music. It shouldn't be hard to add in listening to some pieces and finding a book to read. It could be much more interesting than that. And it can be really easy for the too-busy homeschool family to do.
For several weeks now we have been utilizing the resources found on the
Classical Composers Monthly
website to learn about Beethoven. We've been listening to various pieces. My children have even been surprised that they recognize some. We've watched a documentary on the life of Beethoven.
With all kinds of resources gathered in one place, it has been so easy to add this in to our day. I'm not spending time tracking down links and resources. Some days, we might just have music streaming in the background while doing something to keep our hands busy - drawing, chores or building with Legos. Other days, we have found words in a word search or watched video clips.
From printable sheets for each composer to downloadable or streaming music to interactive quizzes to video clips, you'll find something that works for your family. When the resources aren't hosted on the Classical Composers Monthly website, you won't be paying more for them either. Your one time membership purchase is good for life and for everything featured on the site. I am so glad whatever I find is ready to go and doesn't require any additional purchase.
The only thing we have added to our study of Beethoven is some library books. Apparently, my children don't think we have truly studied something if we haven't had a book from the library about it. This has been the easiest-for-me and most fun-for-the-children composer study we have done. The hardest part is deciding who to study next, or I can just follow who comes up in the next e-mail. Easy-peasy!
The for-life membership to
Classical Composers Monthly
can be used any way you like. The monthly part of their name means they will send you an e-mail at the beginning of the month with the link to that month's composer's page. This is great for those of us that forget about these great things we sign up for and forget to visit again (please tell me I'm not the only one?) What if you don't want to study that one? Just head to your membership page and select one of the other composers from your collection.
There are currently three collections. The newest collection features a mix of composers and artists while the first two collections are strictly composers. Check out the
collection list
to see who is included in each one. Each collection is $14.95 and the membership never expires. Special just for my readers -- save 20% by using code
studio
through February 7th. You can use this for your entire purchase - one collection, two or all three.
Ready to check out a composer's page to see for yourself all the resources the Johns family has put together? By
signing up
with your e-mail, you will have access to the resource page for George Frideric Handel - free! How about access to a whole collection? I am so excited to be able to give one of you a membership to the collection of your choice. Just utilize the Rafflecopter widget below to enter.
a Rafflecopter giveaway
I was given a membership to Classical Composers Monthly for the purpose of review. I have shared my honest opinion. No monetary compensation was received. Thank you Classical Composers Monthly!